Ahoy fellow Newgrounds chums!
Super excited today, because I've just released my new Halloween game, GRAVE CHASE! It's hard to believe I've been making games for nearly two decades now and this is the first one that I'm actually putting up for sale. I really can't wait for you all to try it out, because I've never spent so much time working on refining level designs (let alone on a soundtrack) as I have with Grave Chase. We really spent a ton of time on balancing the game so it has a perfect blend of Halloweeny atmosphere and ever-increasing classic arcade style challenge.
Grave Chase takes places in the month of October, with each of the 31 days representing a stage in the game. The story goes like this: an evil guy known as The Groundskeeper has murdered everybody in town and buried their body parts throughout his giant, mazelike graveyard. One day, he killed the parents of two siblings who saw it all happen. Now, with the power of science and shovels, these two kids are setting out to dig up those body parts and build Frankenstein-like monsters over the 31 days of October for some bloody revenge that culminates on Halloween - if they can survive that long!
Grave Chase features 31 stages of increasing arcade-style challenge, a main villain that gives Tom Fulp panic attacks, hordes of new undead monsters that are introduced throughout the game, over 50 achievement medals, Steam trading cards, unlockable game modes, a spooky chiptunes-style original soundtrack, gamepad support, power-ups, and a whole lot more.
Grave Chase is now available for $5.99 on Steam for PC / Mac / Linux:
http://store.steampowered.com/app/611630/Grave_Chase/
Huge thanks to Jacob, Maarten, Marie, Bannon, Tom, and everybody who helped make this game a reality! I hope all of you will give it a try this season, as it's our love letter to all things Halloween and Horror. I'm really looking forward to hearing what you think about it!
Grave Chase on Steam for PC / Mac / Linux:
http://store.steampowered.com/app/611630/Grave_Chase/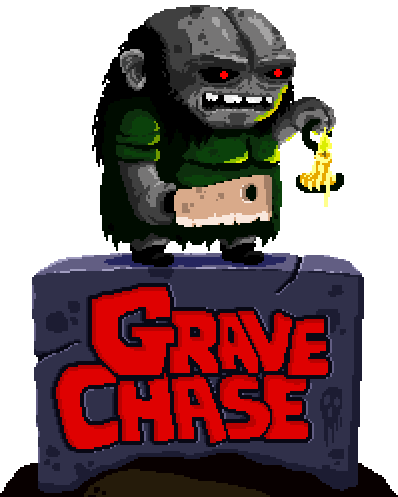 The Groundskeeper is looking forward to making your acquaintance... with his meat cleaver!
-Rog